The Alexandria Archaeology Commission, Mayor William D. Euille, and the City Council recently honored WSSI's Principal Archeologist - Boyd Sipe, as Outstanding Archeologist and presented him the 2013 Bernard (Ben) Brenman Award for Archaeology during an October 2013 ceremony. Since 2007, the City of Alexandria has recognized individuals and groups whom have made extraordinary contributions to "preservation, research, protection,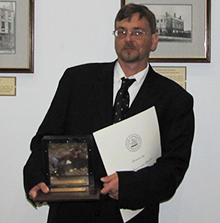 WSSI Principal Archeologist-Boyd Sipe, with
City of Alexandria Brenman Award
enhancement, creation of historic parks and open spaces, documentation, education, public appreciation, and advocacy in relation to the archaeology of historic Alexandria" with the annual Brenman Awards.

Mr. Sipe was honored for his work at the Contraband and Freedmen's Cemetery Memorial. Based on his expertise in the interpretation and documentation of archeological resources, WSSI was awarded a contract to complete research, analysis, and the final data recovery report on the historic cemetery site. WSSI was also contracted by the City of Alexandria to assist with public interpretation for the memorial. Mr. Sipe headed the design team for the City's official memorial website and prepared a historical brochure for the site (to be released upon the opening of the memorial in Spring 2014). Mr. Sipe and other WSSI archeologists conducted additional excavations at the site, and under contract to AMEC, supervised archeological monitoring during construction of the Memorial and prepared a report documenting this work.

For a full list of honorees and more information on the Brenman Award, visit the City of Alexandria Brenman Award Page.

For more information on WSSI archeology services and capabilities, please contact Boyd Sipe or Kim Snyder.